Documents Philatéliques n°248 is available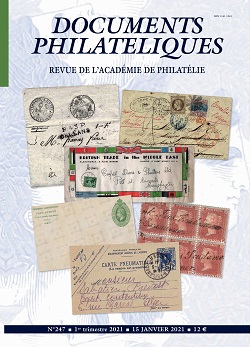 Our review continues to be sent to our subscribers.
The articles cover a wide variety of subjects as usual:
In Memoriam Guy PRUGNON
Jean-Daniel AYACHE : L'acheminement par avion du courrier de Nouvelle-Calédonie pendant la Seconde Guerre mondiale, de la déclaration de guerre (3 septembre 1939) à l'attaque de Pearl Harbor (7 décembre 1941). 1re partie.
Olivier GERVAIS : La généralisation des bandes phosphorescentes au type D. Conséquences de l'arrêt de la presse TD6-5 pour l'impression de timbres-poste.
Georges RYKNER : Les réimpressions des entiers postaux pour l'exposition de 1900.
Fabien BARNIER : Le service postal suisse durant l'épidémie de fièvre aphteuse entre 1919 et 1923 dans le canton de Berne.
You can find the database of our articles here.
You can purchase a first subscription Discovery at a discount price here.