Welcome to the Académie de Philatélie website

Our e-shop allows you to buy all our books click here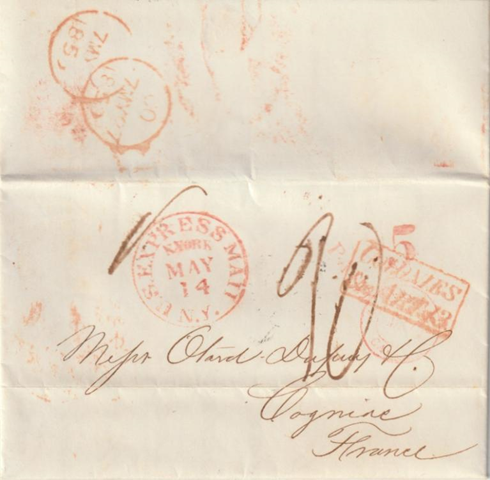 Highlight of the month by Franck Treviso in September 2022
Lettre par express de New York à Boston pour prendre le paquebot de la Cunard [more infos]
The members of the Académie were very successful at HELVETIA 2022
Again a brillant participation! [more infos]
Common meeting between the Académie de philatélie, the Consilium Philateliæ Helveticæ and the AEP
On Sunday 22 May 2022, during HELVETIA 2022 in Lugano, world FIP exhibit. [more infos]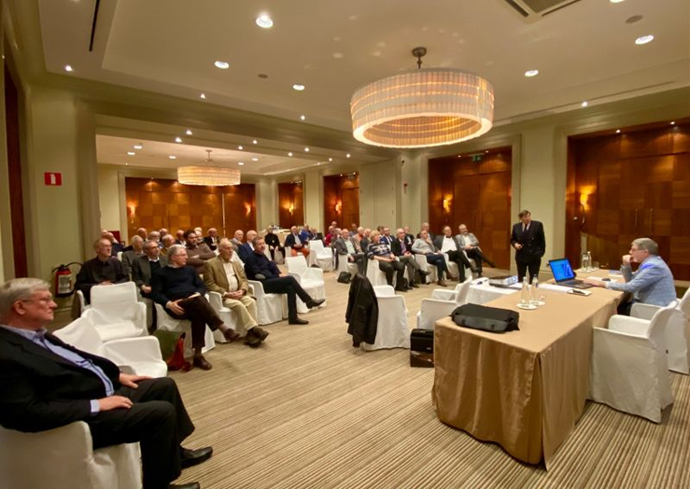 Common meeting between the Académie de Philatélie and the Académie Royale de Philatélie de Belgique
In Brussels, 9 Avril 2022. [more infos]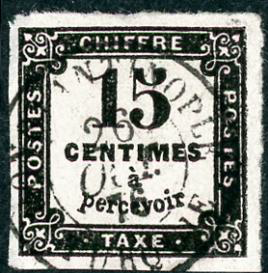 Highlight of the month by Gérard Désarnaud on 7 May 2022
Le dernier carré de Constantinople [more infos]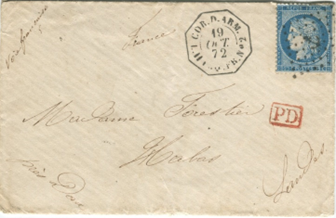 Highlight of the month by Franck Treviso in March 2022
Correspondances d'armées transportées par la ligne H (du Havre à New-York) [more infos]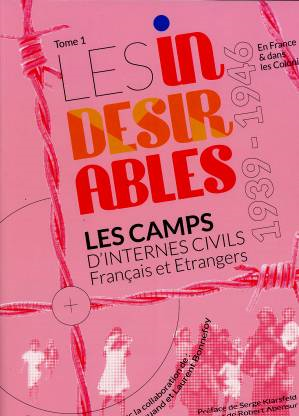 Literature award 2022
The literature award 2022 is awarded by a very large majority to the book by Guy Marchot, Les indésirables – Les camps d'internés civils français et étrangers 1939-1946,
The Academiciens were present at Hunfilex 2022 (Budapest)
6 members of the Academie distinguished themselves there. [more infos]
Results of the members of the Académie at the international exhibit London 2022 (19-26 February):
A brillant success! [more infos]
What is this remarkable piece on the background ?
Postage stamps with value in kg of rice! [more infos]
Incoming Events
Public meeting during Marcophilex XLVI
08 October 2022 à 17:00
You are all invited in the Mairie de Versailles (4 avenue de Paris) for our meeting.
Highlight of the month by Jacques Renaud: « Trois correspondances par avion ».
Conference by Jean-Bernard Parenti : « De Smyrne à Izmir (1919-1923) »

During Marcophilex, the Academy of Philately will hold a booth for its books and will offer around ten books at very reduced prices. This will be the occasion for the publication of two new works which will be available there:
- La Poste Pneumatique de Paris, Hervé BARBELIN of the Academy of Philately, 544 color pages, €50
- Compagnies du Canal de Panama. Organisations postales 1881 – 1903, Louis-Eugène LANGLAIS of the Academy of Philately, 130 pages color pages, 20 €.
Public meeting of the Académie de Philatélie (open to all)
05 November 2022 à 14:30
Espace Champerret, Porte de Champerret Paris 17e

Robert Abensur : Carte taxée au quadruple de l'insuffisance.
Hervé Barbelin : Une information de première main.
Laurent Bonnefoy : Dates et tarifs : tolérance ou non ?
Jérôme Castanet : Valeur déclarée pour le Japon en 1905.
Jean Goanvic : Oblitérations politiques en Indochine 1942-1943
Dominique Hardy : Une feuille de Gandon pas comme les autres.
José Antonio Herráiz : Poste aérienne en Espagne et « affranchissements réclamés ».
Jérôme Bourguignat : Deux correspondances du Maroc contrôlées par le Contrôle Postal Militaire français pendant la première guerre mondiale.
Brigitte Abensur : Quand le Béarn et le Navarre se croisent à Saint-Vincent du Cap-Vert le 6 novembre 1864...
Bertrand Sinais : Le général de Gaulle, de l'Appel du 18 juin au GPRF (1940-1946).
Public meeting of the Académie de Philatélie (open to all)
26 November 2022 à 14:30
Hôtel Hermitage, Monte-Carlo

Dominique Hardy : Quelques cachets postaux de l'époque napoléonienne.
Jérôme Castanet : Exemples de courriers échangés entre la France et l'Asie, l'océan Indien ou l'Océanie (1876-1881).
Robert Abensur : Courrier pour les Indes : l'agence Waghorn de Paris, 1837-1839.
Dominique Sollin : Genèse de la naissance du bureau de poste spécial du Sénat Conservateur du Consulat. Lettre du Consul Cambacérès au ministre de l'Intérieur.
Olivier Saintot : 15 centimes Semeuse lignée gros chiffres de Monaco.
Jean-Pierre Magne : Le rattachement du Comté de Nice à la France en 1860 et ses conséquences postales.
Monthly meeting in December
03 December 2022 à 14:30
Highlight of the month by Bruno Vincent, « Des renseignements puisés aux sources officielles... »
Conference by Jérôme Bourguignat, « Le courrier saisi dans la zone des Armées durant la Première Guerre mondiale »
Conference by José Antonio Herraiz, « Le tarif UPU de Cuba de 1879. L'histoire d'une erreur surprenante »